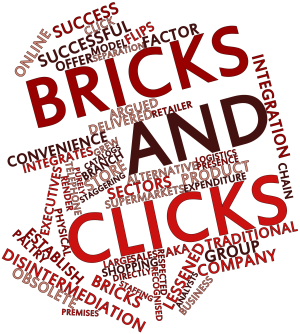 There are more people on the internet to buy than can ever walk through your door. Does that mean that I think you should close your doors and just operate online? No I believe that there are some huge benefits to combining the strengths of both channels.
That was Barnes and Noble's biggest mistake when Amazon was just a small online bookstore that was bleeding cash. If Barnes and Noble had focused on their strengths in brick and mortar locations and combined their "clicks with their bricks" they would be the largest online bookseller today and Amazon would be gone or limping along.
What are these 7 vital ingredients that I'm talking about?
1. You get to look a customer in the eye and ask them questions.
There are some amazing analytics tools available on the internet for tracking and surveying customers. We learn a lot about our customers browsing and buying habits from these tools. But in my opinion they still are not a substitute for years of looking a customer in the eye, asking them questions and watching their response. The smartest business owners combine the benefits of both environments.
2. Many people still like the idea of going into a store.
The shopping experience is changing, but retail stores will not go away for a long, long time. I appreciate the convenience of the web for items that I know I want. But when I want to browse nothing beats a funky little store.
3. You can send people from your retail location to your online store.
Using your physical store as a medium to get people onto your This is a great marketing channel. You can have a slightly different inventory available online.
4. Your local clients will tell their out of town friends.
If you do a good job of servicing your local clients they will evangelize you to their friends. You can even provide incentives to those that bring you new customers.
5. You can form a relationship with your customers.
This is similar to #1 but the differences are that you will see them at church the ball games etc. They will see you as a real person, and probably refer to you as your business. You'll be the furniture guy or jewelry lady, but it will make a difference in your business.
6. In store Pickup
This is especially strong if you have multiple locations – like Barnes and Noble had. You can allow people to pay for their items online and pick them up in your store. This will give you another chance to upsell to them. And there is nothing better than upselling someone who is picking something up that they already paid for because they feel like they are getting a gift. Walmart is doing a great job of this with their free ship to store service.
7. In store returns
Yes, none of us likes to take returns. But there are some great advantages to having them return it to your store. First it gives you the chance to find out why they really returned it. Rarely will you get the real answer online. Second it gives you a chance to change it into an exchange or upselling them something else.
The simple truth is that you can easily combine the benefits of both the online and in store shopping experience if you approach it with a smart strategy.