It's a fair question.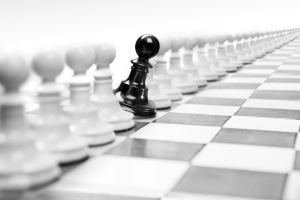 Every business either stands out from the crowd or gets lost in the multitude of other businesses that are in the same industry or niche.
They are doing the exact same thing.
They're selling the same product. They're offering the same service.
They have the same type of business card with the smiling face of a representative and contact information.
The problem is that most people, representatives and business owners do not put enough time and energy into actually figuring what it is about their service or product that makes them unique. Even if they do know or discover what it is that makes them stand out from the crowd they usually put very little effort into actually highlighting those differences and using it to their advantage.
The Secret to Business Success
Once you discover and begin to expound upon on what makes your business unique then you have already taken care of a lot of brand identity and marketing issues.
Why is that?
It's simple, really. Brand identity and marketing is all about getting the attention of potential customers and then offering them a quality product or service in hopes of keeping their business in the future and then having them recommend you to other people.
Easier said than done.
What Makes Your Business So Special?
Unique Position of Passion and Drive
What makes your business great? Where's the drive come from? Where does the passion and that drive for excellence come from? Not HOW but WHY did it all start? This is your business. Look inwardly at your passions and strengths before drafting any technically written mission statement.
People will be drawn to passion and reputation NOT an "About Us" page. Maybe it's a personal story from a need that you identified that was the catalyst for the product and service. It's possible that you're just the best at what it is that you do and you see it as an obligation to offer it to the world.
Whatever it is, somewhere there's reason. Everyone has their own story. Tell yours!
Product & Services
Are you offering a product or service that is so different from the competition that it could change the way people look at it? Or, at least make them go "hmm"? Does your product or service extend or build upon an already existing one to the point where it becomes more necessary to have?
If so…tell it! Announce it. Offer it. Give it a way for a bit. Make. People. Understand.
Guarantee
Can you, with a doubt offer, your product or service and know that it will provide the answers or solve the problem that your customer base is looking for? Are you confident enough to guarantee that?
Ask Your Customers
Your customers know what drew them to you in the first place. Take a look at which common elements your current clients possess in order to determine what message they and ideals brought them to do business with you.
In the end, the one thing that is going to make or break your business is the quality and usefulness of the product or service you are providing. Just make sure that you're doing everything you can to ensure enough people are sampling that great service by keying in and spreading the word about what makes your business unique.