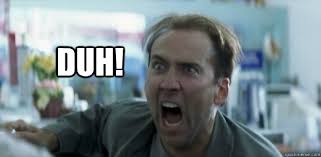 This year started out rough.
My business was hurting because I had spent the previous six months focused on one client who was paying me $10k a month.
I had other clients, but wasn't doing anything to generate new ones.
In fact ½ of my new clients were ones I was helping friends with and talking a cut of the project.
It just wasn't what I wanted to do.
I was hurting financially and I wasn't delivering to the best of my ability for my friend.
Somewhere along the way I read a post from Dan Meredith
It may even have been something from the Espresso With Dan archives
To be honest I can't point you to the right one.
But I had the biggest "Duh" moment of my life.
I help B2B companies with their marketing strategy and
I was primarily doing B2B lead generation for my clients….
But I wasn't doing it for myself…
I realize how obvious that is when I look back on it, but I was too stuck in my rut.
So in July I wrote down a plan to build my agency to 1 million in a year
I planned out the staff I would need and
I developed a lead generation strategy to get me there
And then I implemented it
Less than 4 months later
I've added 16 new clients
Have over a dozen more in my pipeline.
And I'm hiring staff